The break down:
Sources of dyepot stuff can be anything that releases a color in your pot. Animals, bugs, minerals, fungi, plants & more. Plants can be roots, stems, leaves, fruits, seeds & flower petals… all of which can yield different colors from the same plant.
Ratio :
-1/2 gallon of PH neutral water to 1 cup bulk (non powdered) material.
-1/2 gallon of PH neutral water to 2 tablespoon of powdered material.
Process:
-Fill pot with water
-Add dye source material
-Bring the dyepot right up to a boil but not boiling
-Reduce heat & simmer at least one hour.
-DO NOT LET IT BOIL.
-Stir as needed – check your dyepot frequently, you'll get to watch the color of your bath deepen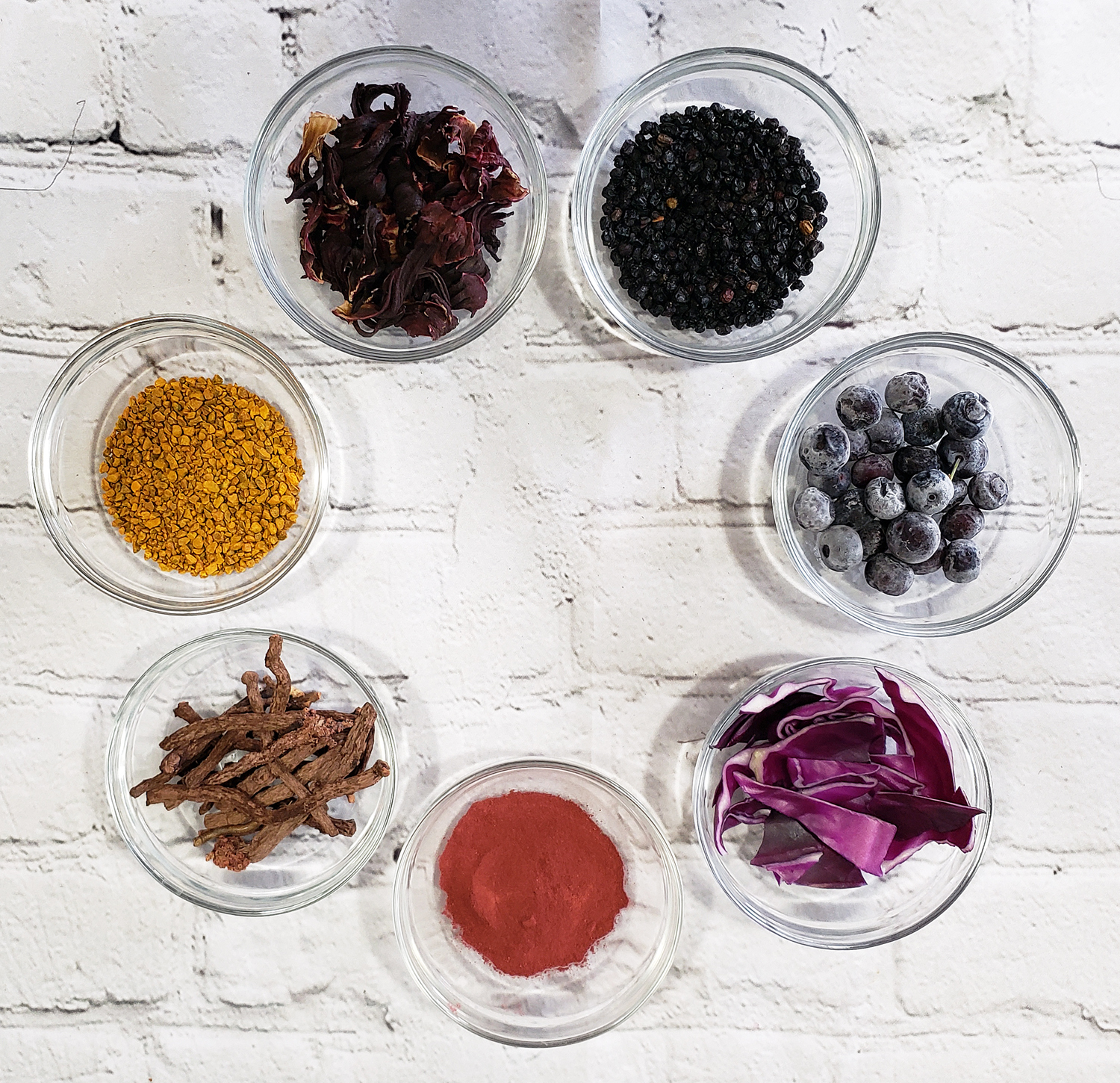 The break down:
After your dyepot has simmered for the hour, strain it into a bowl & submerge a bundle. Feel free to lay paper pieces against the side of the pot, too. Clip them to hold in place & help create that horizon line of dye. Let soak for at least 12 hours (overnight is easiest.)
Designer Tip:
Let your cooked dye source cool & store in an airtight container for a 2nd (or potentially more) use.
Supply List:
Here is a list of all the different dye sources we've used & other supplies you'll need for this section of the course. (K) indicates things you may have in your kitchen. Check the resources section of the intro page for places to purchase the more exotic sources & a few links to supplies.
Alkanet
Madder
Hibiscus
Elderberry
Brazilwood
Kamala
Logwood
Marigold
Quebracho
Eupatorium
Cutch
Red Cabbage (k)
Tumeric (k)
Blueberry (k)
Avocado Pits (k)
Dry Blackbean (k)
Black Walnut
Beet Root (powder)
Onion Skins (k)
heat source
pans
mixing bowls
wooden spoons
PH neutral water
strainer
clips (chip, bulldog, clothespins)