Available Online
E-courses available for you to work through at your own pace. 
TECHNIQUE BASED WORKSHOPS : information given to you on a specified technique.
PROJECT BASED WORKSHOPS : how to complete a certain type of project.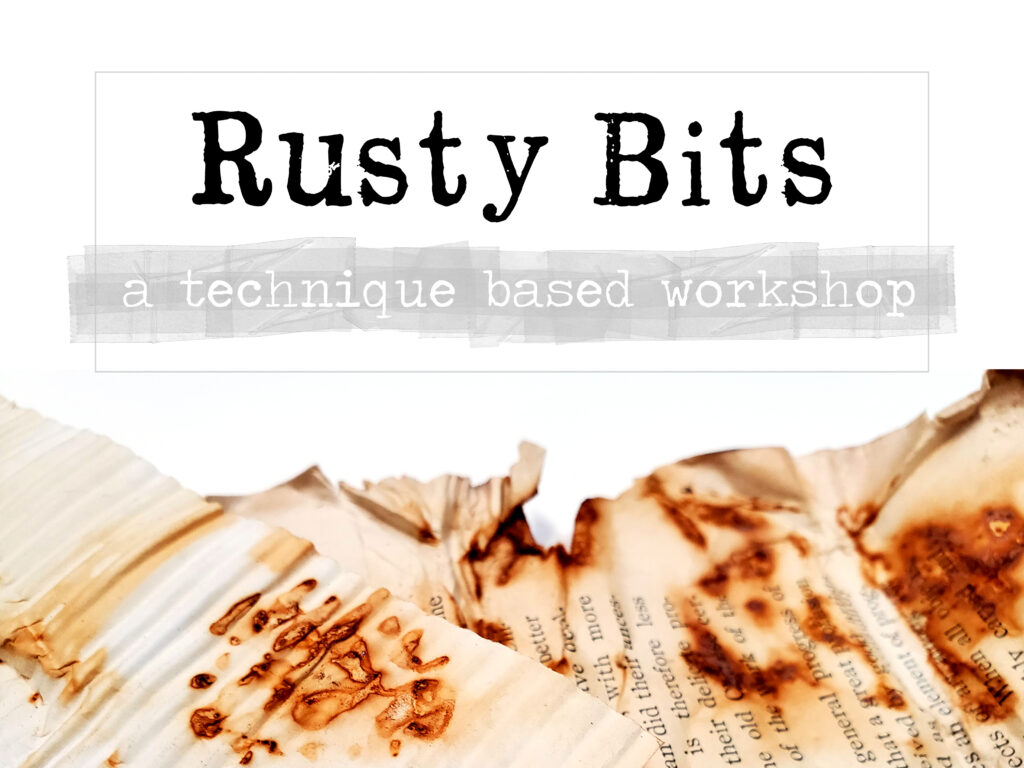 All about Rust Dyeing!
—$17
Learn the ins & outs that I've personally developed for my style of mixed media. This is a technique based workshop that will walk you through the whats & hows of getting great rust transfers each & every time.
– watch my own rust dyeing process start to finish
– password protected classroom
– 70+ minutes of instruction via video
– written instructions
– community with other students for discussions & sharing
– freebie printables
– detailed supply lists
– access to me for any inquiries or questions
"So much information for such a low price including a free printable!
Love the step-by-step format!
Love the reveal of what was made before my eyes and side by side comparison of how things turned out!
I really liked that it was separate videos instead of one big one. Nice bite size pieces."
-Lisa G.
IN PERSON
All the places I'll be : workshops, expos, demos, make n takes, crops +
Scroll down for details where available.
2020 Schedule >>>
Jan -cancelled
Feb -cancelled
Mar -cancelled
Apr -cancelled
May -cancelled
Jun -cancelled
Jul
Aug
Sep
Oct
Nov
Dec
2021 Schedule >>>
Jan
Feb
Mar 15-19 Mad Madder goes to ICELAND!!!
Apr
May
Jun
Jul
Aug
Sep
Oct
Nov
Dec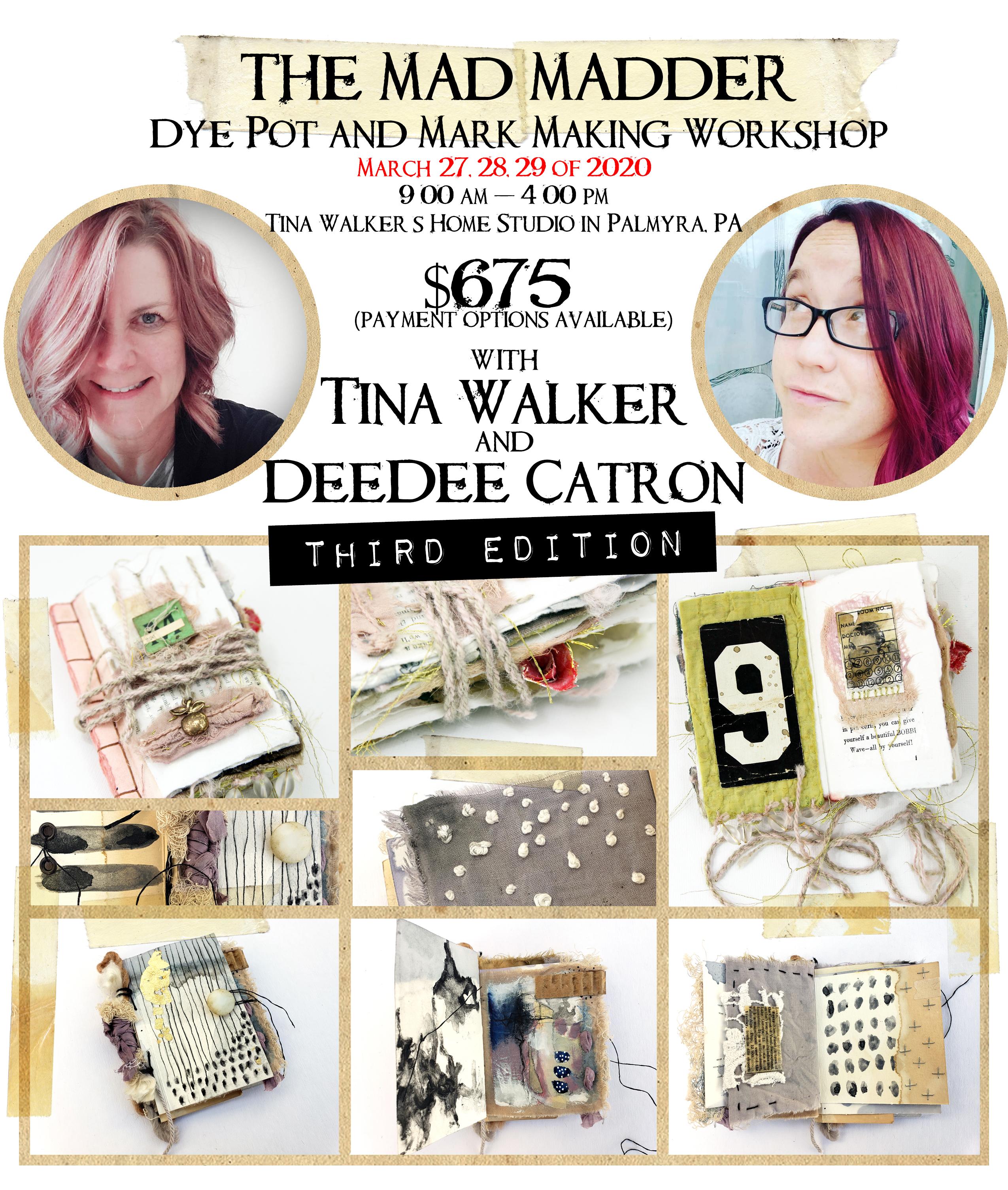 The Mad Madder >>> 
Dates Available:
April 2019 (Palmyra PA)
August 2019 (Las Vegas NV)
March 2020 (Palmyra PA) POSTPONED

$675 (Payment options available)
3 Days | 2 Artists | SO.MUCH.INFO
-Learn all about dyepots, eco-dyeing (all natural & safe,) bundling+
-Build 3+ Journals with 3 different binding techniques
-Create home-made inks
-Learn resin paper techniques
-Build your mark making arsenal
-Learn unique stitches
-Practice image transfers
& so much more
Want to register? Email Tina adogslife13@hotmail.com
Search #madmadderworkshop on instagram for loads of images from our workshop
The Mad Madder Comes to ICELAND>>> 
March 2021

Tina Walker & I have made the decision to take The Mad Madder Workshop INTERNATIONAL : straight to ICELAND! ohemgee. how exciting?
A few details :
March of 2021.
Includes projects & techniques unique to our Iceland trip like weaving and a mixed media bit, 6 nights accommodation, sightseeing the beautiful country (Tina has some amazing things on our list like geysers, waterfalls +) fingers crossed the NORTHERN LIGHTS & of course time with like minded dyepotting souls.
$2075 : $520 deposit reserves your spot. Paid in full by February 15th 2021.
Want to register? Email Tina adogslife13@hotmail.com
Search #madmadderworkshop on instagram for loads of images from our workshop